Top 5 Places to Visit in Manali
is a dream location for many people Its iconic mountain ranges, misty surroundings, effervescent lakes, and lush greenery are a delight for the human eyes. Manali maintains a soothing climate all year round, making it the best travel destination for you. So, you have decided to visit this gorgeous hill station but cannot decide which resort to stay in. There sure are many other Resorts Sightseeing in Manali​ , but none of them matches the quality of The Royal Woods by Aaroham.The Royal Woods by Aaroham is considered one of the Best Resorts in Manali because it adheres to the requirements of every tourist. Whether you are coming for a business or a family trip, we assure you that you will have your life's best time with us. Manlai contains a large number of tourist attractions. Here, we bring you the top 5 places you can visit while you stay in Manali with us.
Hadimba Temple, Old Manali
Popularly known as Hadimba Devi Temple or Dhungari Temple, Hadimba temple is a 15th-century old ancient shrine built by Maharaja Bahadur Singh and situated in the heart of old Manali. The shrine is devoted to the wife of Bheema, Hidimba. The Hadimba temple is unique in its appearance with wooden architecture. Inside the premises, another small temple lies and it is devoted to the son of Hidimba, Ghatotkacha.
The whole area is hedged by the tall and thick cedar woods and snow-covered mountain ranges at the back add extra elegance to this place. One can also dress up like a Himachali and take out some gorgeous pictures. And therefore, it is the most common and best place to visit in Manali, Himachal Pradesh.
Entry Fee: None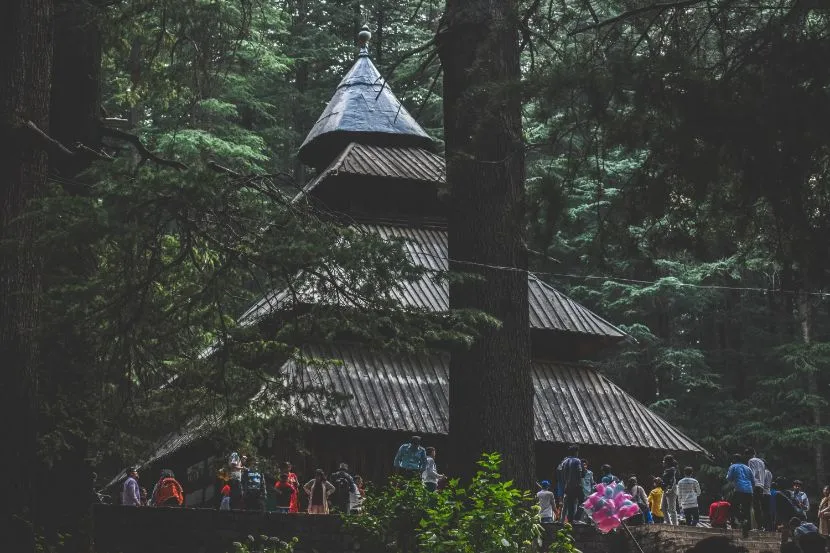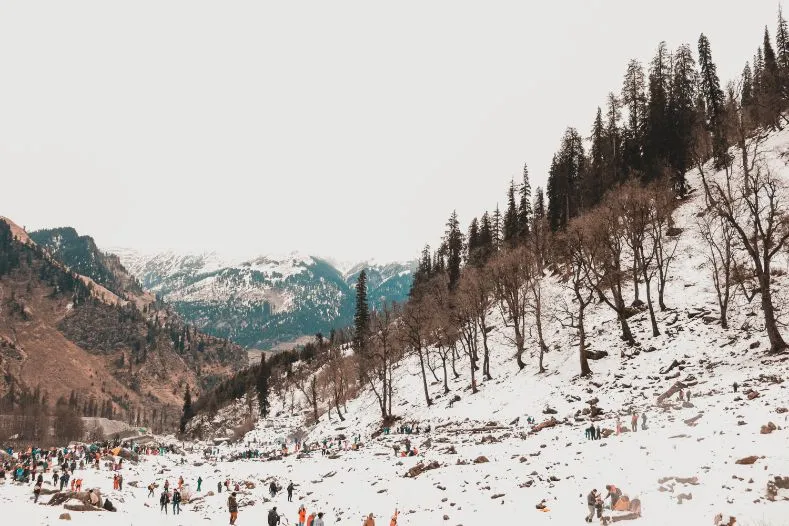 Solang Valley is tucked away between the Beas Kund and Solang Village, with a distance of 13 kilometers from Manali, it is one of the best places to visit near Manali. The valley is well-known among visitors for its breathtaking views of snow-capped mountains and majestic glaciers, which draw skiers from all over the world.
In Manali Solang Valley, you can enjoy adventure sports and snow activities like quad biking, snowmobiling, and of course skiing. And when the snow clears, paragliding becomes popular. Additionally, there are several other things to do if you don't want to indulge yourself in sports.

This is one of those places to visit in Manali which provides some of the best trekking trails and scenic beauty. It is about 5km from Manali, and to reach the waterfalls, one has to hike. Being in a remote location not many tourists visit the place and hence makes its surrounding tranquil and peaceful. And apparently, it is sacred to the locals. There are many age-old temples all the way up to Jogini falls. This is one of the best tourist places in Manali if you're looking for a getaway to calmness.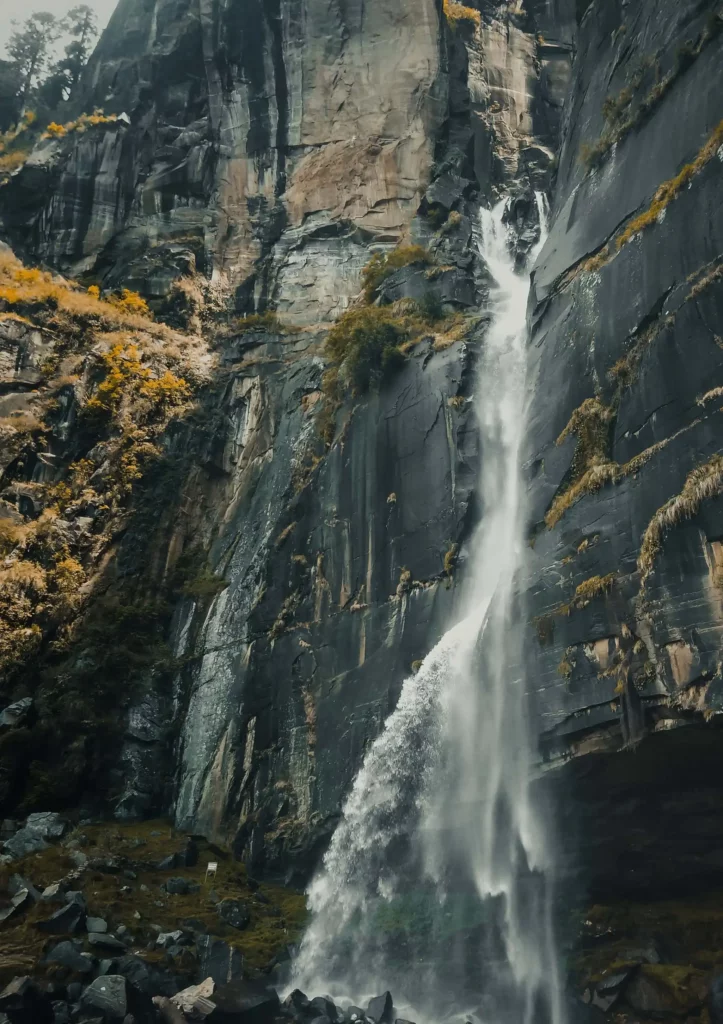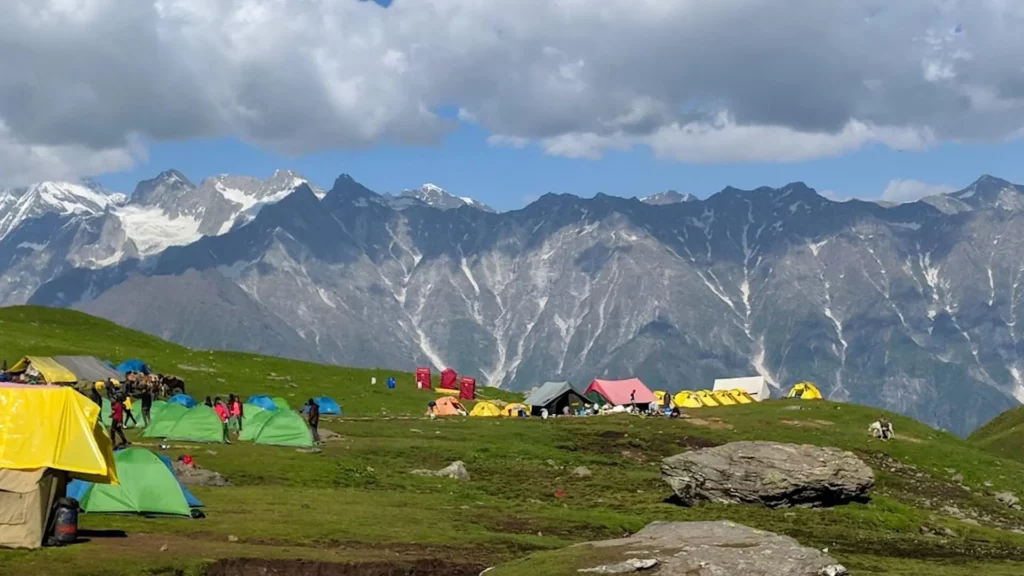 Bhrigu Lake is a very well-known and one of the most visited places in Himachal Pradesh, India. It is about 16.2 km via the Kullu Manali road and is a famous spot for trekking and people from all over India comes to experience its charisma. It is approximately 14,100 feet above sea level. Trekkers travel to this place in order to soak the real aura of Himachal Pradesh and the tranquillity it has to offer. The trekking trails pass through the mystical woods and meadows overlooking the vast Himalayas is a sight to behold.
The highlight of the trek is the lake itself, which is known to change its hues every minute. Camping is accessible at Rola Kholi, where you can spend the night in tents under the stars.
The Hampta Pass trek, which is one of the easy-to-medium-difficulty Himalayan treks, provides breathtaking views of the Kullu Valley and Lahaul Valley. And probably the most sort after trekking places all over India. The trek's biggest attraction is Chandratal Lake, which is situated along the way. The pass is situated at an elevation of over 4000 m above sea level on the Pir Panjal Range, and the route comprises incredible river crossings. Many groups in Manali provide Hampta Pass trekking tours, with prices varying depending on the itinerary and number of days.