Best Cottages in Shimla - "Aaroham Resorts"
Aaroham cottages is one of the best cottages in Shimla. This is one of the most popular cottages in Shimla and provides a great stay experience. The cottages are equipped with all the modern amenities and provide a comfortable stay. The weather in Shimla is perfect for a relaxing stay. You can enjoy the cool breeze and the beautiful views of the mountains in our resorts.
Whether you are looking for a luxurious stay or a budget-friendly hotels, Shimla has something for everyone. Be ready to blow away your travel senses no matter what your budget is, Shimla has something for everyone. So, if you are looking for a great stay experience, then our cottages are the perfect option. The staff at our cottages are friendly and helpful and will make sure that you have a comfortable stay for you and your furry friend as this is one of the best cottages in Shimla.
So, what are you waiting for? Pack your bags and head to Shimla, the land of dreams, for a memorable vacation and a chance to see some amazing sights. With Aaroham resorts, you can be sure of a great stay experience. Enjoy the beautiful views, pleasant weather as this is a rare resort near Shimla with swimming pool. Along with hospitality of the staff at Aaroham resorts, get ready to indulge yourself in lap of luxury and get pampered in care and comfort that you've never experienced.
Each of our cottages houses a 40" LCD display to help you watch your favorite TV shows while relaxing on your bed.
A stay at our resort for more than 5 days will enable you to get a complimentary bottle of wine for free.
Start your morning with the highest quality coffee made in-room with Lavazza coffeemaker.
Gain access to free high-speed Wi-Fi within the hotel premises to do your office-related work or browse and upload pictures on your social media handles.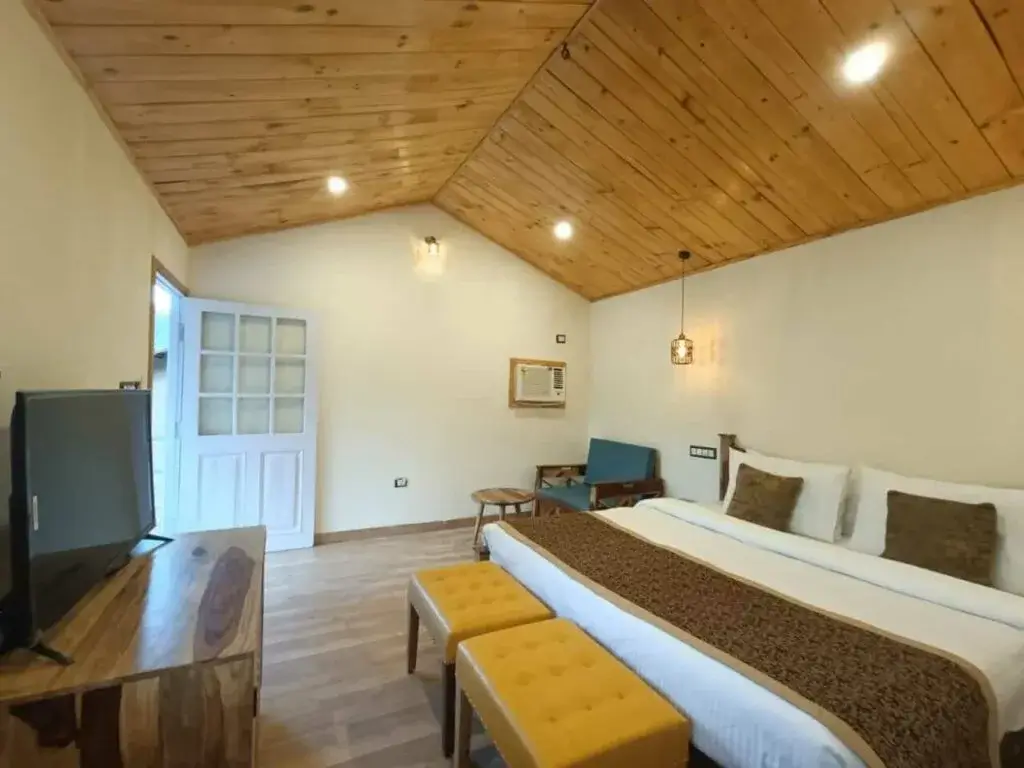 Double Bed Cottages with snowy mountain view. The Cottages are beautiful and clean with an extra comfortable bed.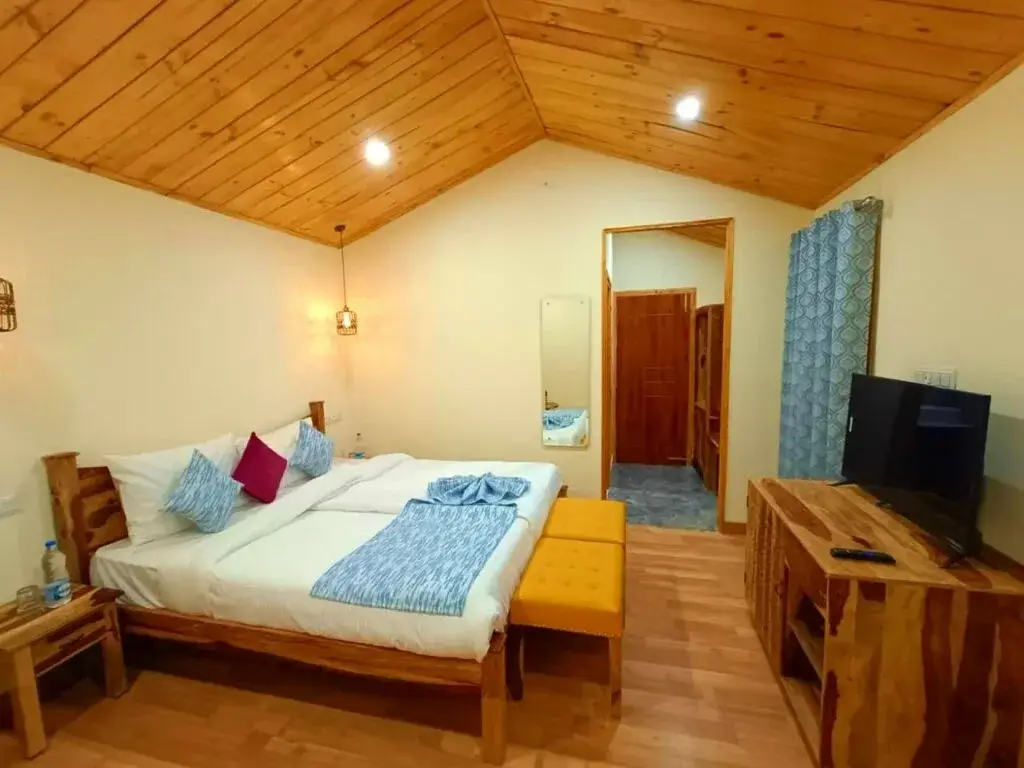 Beautiful and comfortable Cottages with a small living area where you can view the snowfalls outside.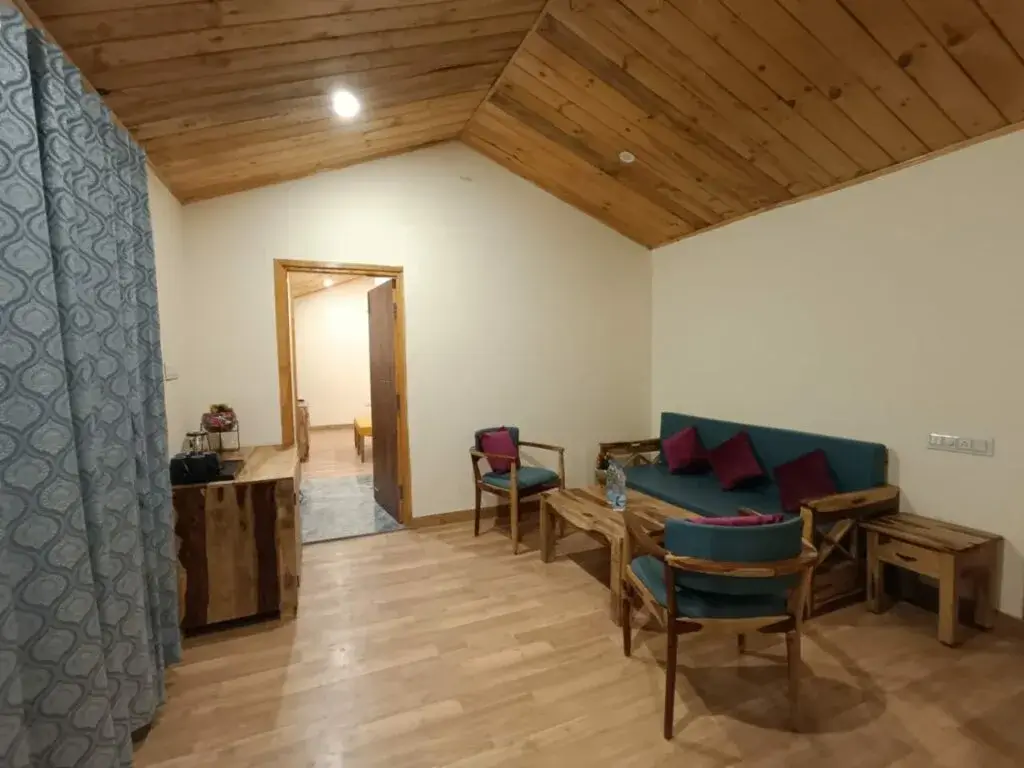 A clean, beautiful, and large family Cottages with 2 cosy queen-sized beds. You can enjoy the splendid view of snow-capped peaks from the windows and balconies of these Cottages.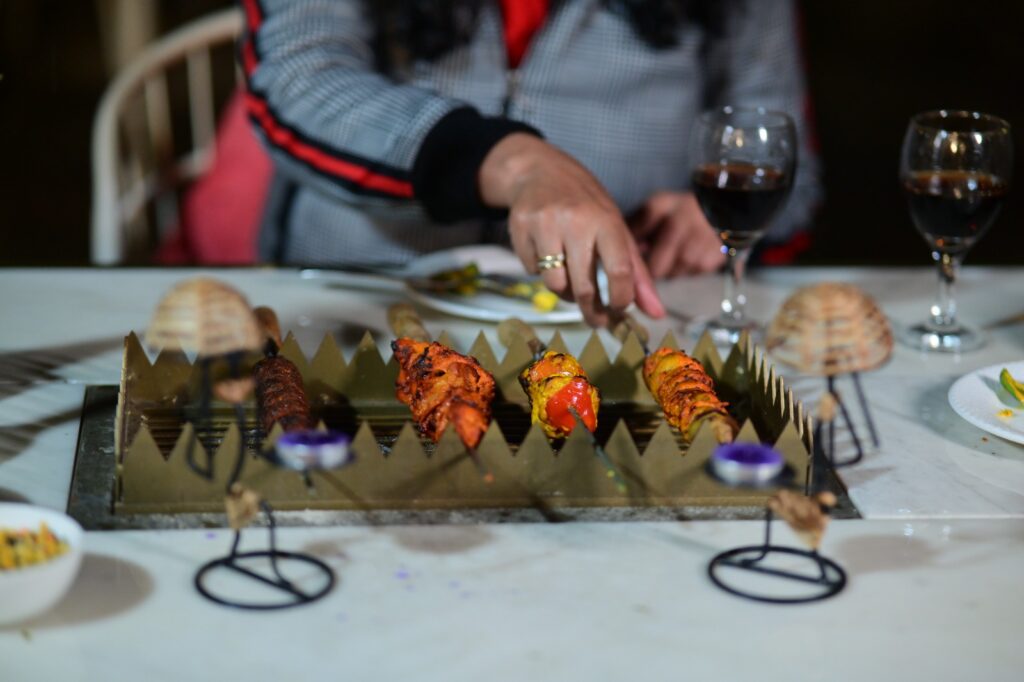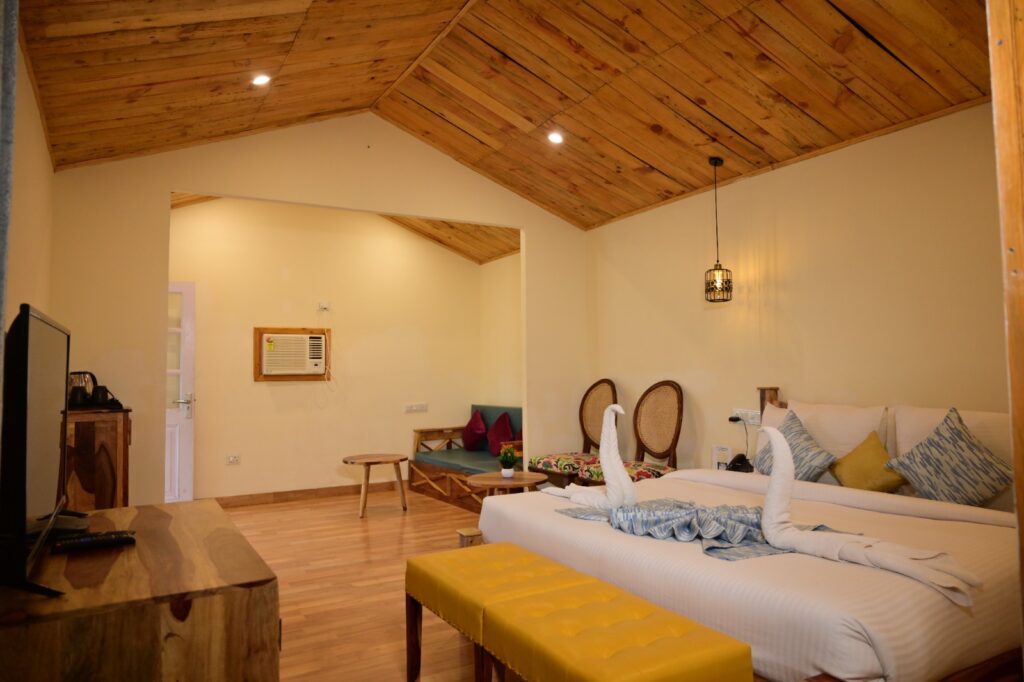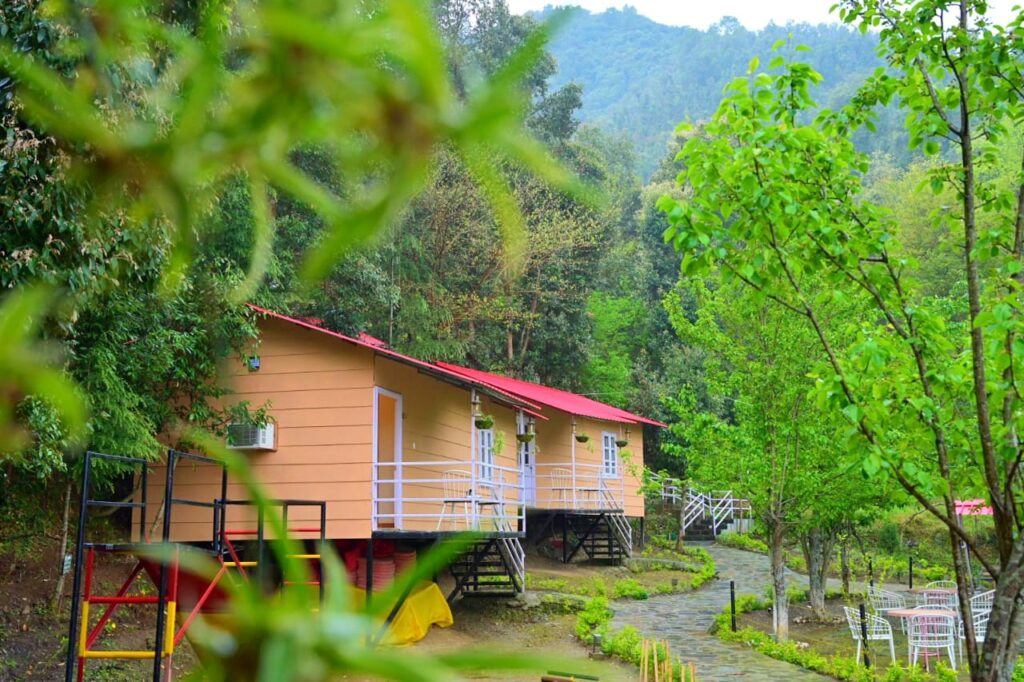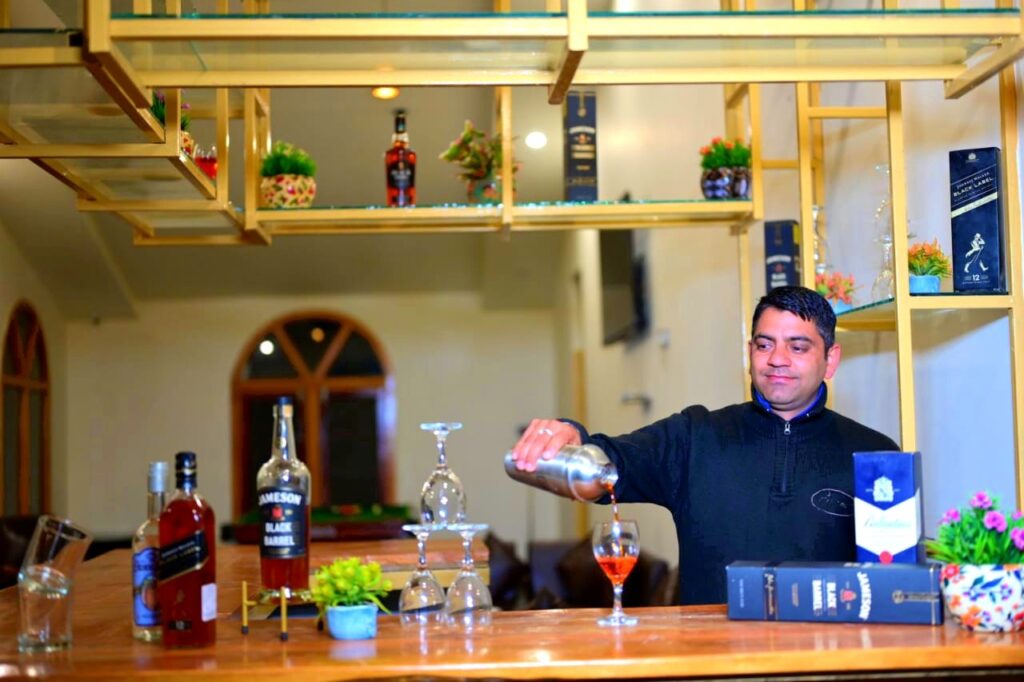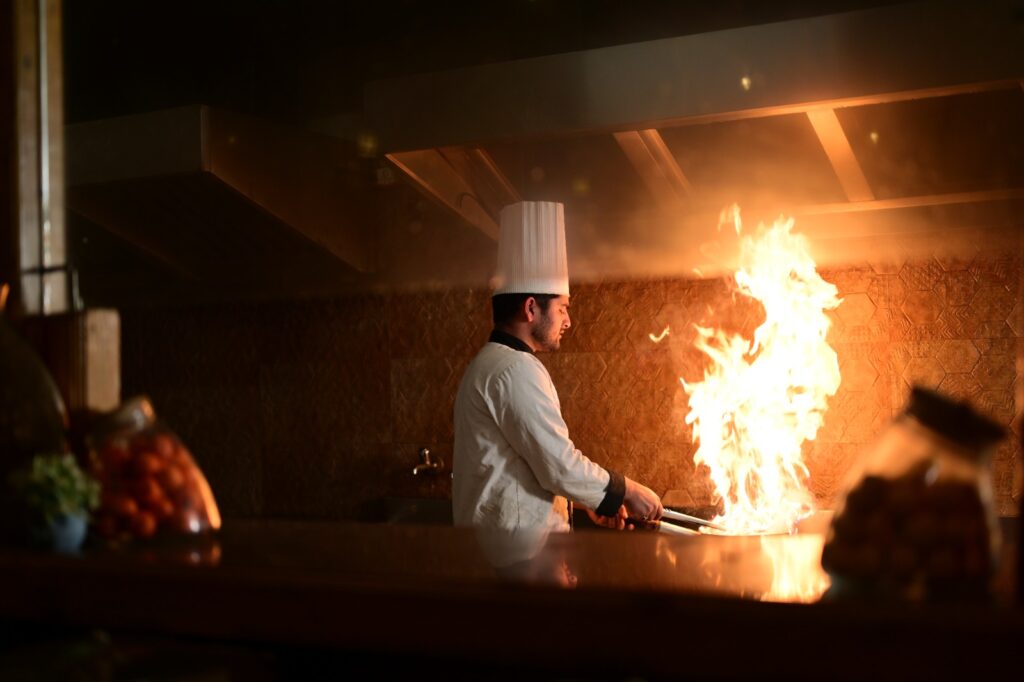 Best Resorts Near Shimla - "Aaroham Resorts"
Shimla is one of India's most popular hill stations with breath-taking view of the Himalayas. Shimla is known for its stunning views of the majestic mountains, and it's also home to some of the best resorts in the country. It's all set to welcome you to its abode and cocoon you in its tremendous beauty and hospitality. Shimla, a place that is in the bucket list of every traveller, is a place that has almost everything in it and a lot more to offer to its guests. To enjoy this beautiful place, you need a great place to stay and rest after the adventure activities.
We claimed that Aaroham resorts is the best resorts near Shimla. Our resort offers luxurious cottages with stunning views of the surrounding mountains. The cottages are equipped with modern amenities, such as air-conditioning, flat-screen TVs, and Wi-Fi with a vintage touch. The resort also has a restaurant that serves delicious Indian and international cuisine to satisfy all the taste buds. It also offers a cozy place for your four legged friend as it's a pet friendly hotel in Shimla that offers accommodation to all your loved ones.
We also offer a variety of activities, such as trekking, mountain biking, and river rafting. Guests can also enjoy a relaxing spa experience, with a variety of treatments and therapies available for its privileged guests. Aaroham resorts is the perfect place to stay if you're looking for a luxurious and relaxing experience in Shimla. With its stunning views and modern amenities, it's the perfect place to get away from it all and enjoy the beauty of the Himalayas.
Are you planning a vacation to Shimla? If yes, then you are in for a treat! Shimla is a beautiful hill station located in the northern part of India. It is known for its picturesque views, pleasant weather, and a variety of stay options.
Aaroham cottages Shimla is the perfect place to unwind and have a relaxed time with your friends or family. The Aaroham cottages at Shimla offers the perfect ambiance amidst nature and one of the best places to stay in Shimla because it is slightly away from the city center but not too far off either. The place has been designed keeping in mind the comfort of its guests. The cottages are comfortable with some magical views of snow-clad mountains. We are a property which comes with a price and a huge parking lot and probably one of the most comfortable 4-star hotels you'll find in Shimla
When you visit Aaroham cottages Shimla for your vacation or even on a short business trip, you can rest assured that you will have a comfortable and hassle-free stay. Our cottages caters to all kinds of guests and we take immense pride in being one of the best cottages Shimla has to offer. After the stunning success of our resort franchise in Dalhousie and Dharamshala, we decided to take things up a notch and offer our unparalleled hospitality to people coming to Shimla.
Nestled in the heart of Shimla, our resort works seamlessly with the help of an unmatched team of employees and staff. We strive to create a comfortable, exciting, and memorable experience for you for the duration of your stay in Shimla. Irrespective of whether it is about luxurious rooms, world-class amenities, or the elegant dining experience at Aaroham, you are sure to have the time of your life with us. We at Aaroham, have made the best arrangements for a happy honeymoon and even a birthday in Shimla
So, if you find yourself in Shimla, Himachal Pradesh in the near future, do not forget to call us to book your stay at Aaroham for a memorable time in town!
Our Restaurant
Multi-Cuisine "The Back Woods" Restaurant
This well-acclaimed in-house multi-cuisine restaurant of our resort at Shimla helps you transcend your taste buds to the different flavours offered by diverse cuisines. So, indulge in a delectable array of delicious buffet and dining options with your family here that will make your culinary sessions just as memorable as your trip to Shimla.
Indulge in an Extensive Lunch Menu
Enjoy a flavoursome and scenic dining experience as you dine amidst the breathtaking views of the majestic mountains and lush green landscape that is sure to spark a conversation with your company.
From light salads and soups to indulgent meals, engage in a scrumptious array of lunch dishes offered by our courteous and cordial staff. Also, you can treat yourself to our hand-picked ala-carte menu too. However, if you cannot find any fancy dish you desire on the menu, your wish is our chef's command! They will deliver your desired dish in an instant.
Feed your taste buds with the delectable flavours of oriental, Indian, and continental cuisine. You can also try the local Himachali specials and the festive meal-dhaam, served according to the local tradition.
We can even arrange a special, romantic, and fancy candlelight dinner at the hilltop under the starlit sky at your request.
How to Reach At Our Resort
Places to Visit in Shimla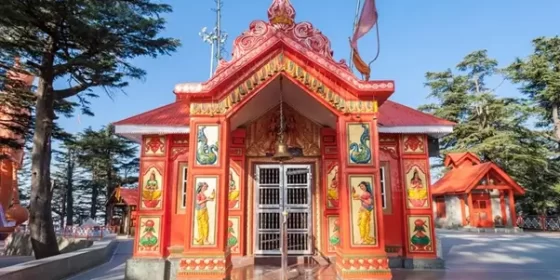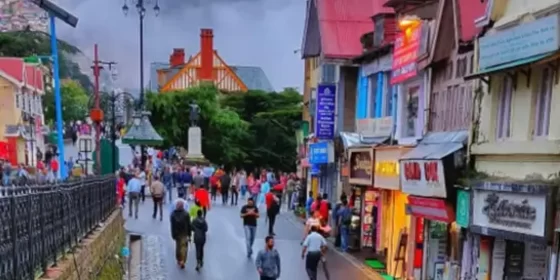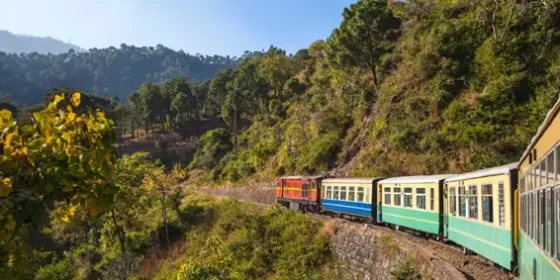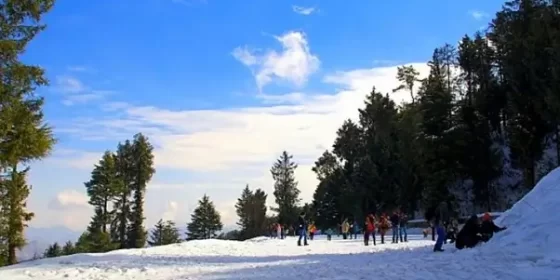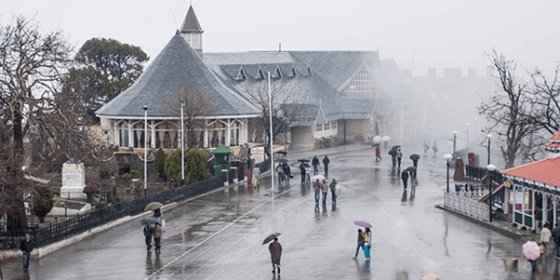 Good 👍
Krishan Sharma
2023-03-12
I stopped here for tea. Very peaceful place.
Parkash Dangwal
2023-02-06
Everything was good. great hospitality
the resort was good. Good ambience overall.
Cottages facilities of Aaroham
Free public parking is possible on site (reservation is not needed).
Upper floors accessible by stairs only
Airport shuttle (additional charge)
Wake-up service
Heating
Soundproofing
Private entrance
Ironing facilities
Non-smoking rooms
Iron
Wake up service/Alarm clock
Room service
FAQ About Aaroham at Shimla
Browse questions from guests for anything extra you want to know about the property